Register to Try Out
---
2019-2020 Pre-Season Information
Rookie and Main Camp Information
Rookie Camp $150
August 31st and September 1st in Airdrie
Rookie Camp is for all 15 and 16 year old non returning players
Main Camp $180
September 2nd - September 8th
Main Camp is for all returning players, 17 year old players and athletes who have been invited to Main Camp after attending the Rookie Camp
Those players who will be attending Jr. Camps must report their activity to the Bisons Manager continually via email thru the process so we are able to track your whereabouts. There will be an established deadline to report to the Bisons which will be communicated here asap.
Tryout Tournament
The Bisons will be participating in the AAA Bowmark Oilers Preseason Tournament in Okotoks September 12th-15th. Players who have not yet been released from the Bisons will be informed of their role in the tournament prior to the event.
The camp registration system is hosted through Airdrie Minor Hockey, please ensure you read all of the information provided on the registration site and that you have all of the required documentation submitted.
If your home hockey association is not Airdrie you will be required to submit this form. ELITE MALE NOTIFICATION OF TRYOUT Complete the form, and email it to airdriehockey@telus.net
The CFR Chemicals Midget AAA draw zone as outlined by Hockey Alberta includes players whose home minor hockey associations are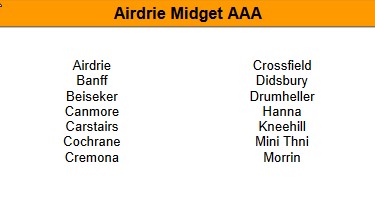 Note: All players should register at their local minor hockey association to secure their spots on other teams should they not be successful in obtaining a roster spot with The Bisons. This includes Airdrie players registering in Airdrie Minor Hockey.